If you are in a retail sector targeted by organized crime or other forms of consistent theft, you are probably looking for a way to reduce product loss without disrupting the sales process. The Swing Gate, a self-closing safety gate, provides a strong visual deterrence against theft.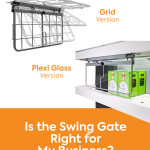 The Swing Gate requires two hands to operate, which deters sweeps and simultaneously notifies store associates the gate is being opened. At the same time, you can maintain or increase the previous level of sales through optimal product accessibility and on-shelf availability.
Major retailers tested the swing gate and
experienced:
60% reduction in shrink
See Below for our Special Offer on a Test for Your Store!
The Self-Closing Safety Gate is Self-Installed and Adapts to Your Existing Fixtures 
The swing gate protects products across a variety of retail industries, including: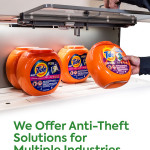 Grocery

DIY

Wine – Liquor

Sporting Goods

Electronics

Discount

Mass Merchant
The Swing Gate is available in multiple sizes and materials, so you can be sure that it will integrate seamlessly into your retail design. Electronic notifications and customer data can all be customized to fit your business's needs. 
Schedule Your 

FREE

 Test 
2 Swing Gates per location when you respond by 7/31/21. 
Contact Us Today to find the right Swing Gate for your store!