With a never-ending stream of data, information and "news", how do we receive, analyze and digest it all? Short answer, we can't… Well, effectively anyway. Separating the wheat from the chaff is a challenge, especially in the era of social media and this ever-connected society. Time is a finite resource that you'll never get back. So, whether you are preparing for a career transition or working your way up the ladder, make sure that you optimize your efforts and not unnecessarily spin your wheels on trivial or useless information. While I'm confident that neither I nor anyone else have all the answers, the focus of this month's C2C is how I optimize select resources to digest as much accurate and applicable news and information as possible on a daily basis.
As a husband, father, son, brother and entrepreneur, balance is a challenge, just as it is with everyone else. Draw notice to the order I placed those titles. From day-to-day they may move around, but in the end, this is how they always land for me. For the purpose of this discussion, we're going to focus on the entrepreneur aspect. Anyone that has founded a start-up or ran a small business can attest that titles mean very little within the confines of your organization. I have a lot of adages, but one that I've used for years is, "if you're in the boat, grab a paddle." I believe that to be true for all members of a team. Every role is important and all actions are significant.
So how do I, as an entrepreneur and CEO, receive, analyze and digest all the "stuff" that I feel is important each day? It starts when I wake up. Now, I'm not one of those early risers like Tim Cook, CEO of Apple. Compared to him, I'm rather late. However, I am usually awake between 5:45-6 a.m., and after I roll out of bed to find my coffee, I'll look at my phone. My phone is not in the bedroom, and it doesn't control my life. Likewise, I do not believe that anyone working for PPS should be poised to immediately respond to an e-mail in their off hours. I keep my phone in our home office, and it's set to go silent from 9 p.m. to 6 a.m. Since we operate globally, my priority is to review and respond to any key e-mails and get up to speed on events that occurred overnight. I'll then quickly scroll through news headlines via the SmartNews app, diving in if any standout. This usually takes about 15 minutes while I'm drinking coffee and eating breakfast. From there, it's getting the team ready to head out the door for daycare, work, etc., to start the day. A fine display of acrobatics and juggling by the wife and me, by the way…
We're both usually in the office between 7:45-8 a.m. where I'll go back to my inbox and apply the 5 D's (Decide, Do, Delegate, Delay or Delete) to any of the e-mails not already addressed. If I receive a message that is better suited for someone else's wheelhouse, it goes to them. We are a team, but each member has their area of focus and expertise. After cleaning my inbox of direct mail, I'll review any daily newsletters or snapshots that I subscribe to. This is where all the "magic" happens. I subscribe to three daily resources, The Hustle, Morning Brew, and Owler. The Skimm is also good, but I prefer The Hustle. Each of these outlets have their own applicability and purpose in my day.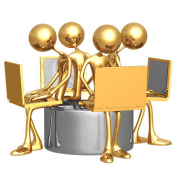 The Hustle allows me to make a quick review of news at the office similar to the way that SmartNews allows me to at home. My second resource, Morning Brew, is focused on business. The material is presented in an informative but entertaining format that keeps you engaged, which is a welcome addition to reading about business. The third, Owler, is more of a sales tool, but I find it to be a great resource that helps me stay updated on industry happenings for our clients. Very seldom are any of these e-mails sent to the trash without being opened, and I rarely spend more than 30 minutes analyzing them all.
So now that we know the core of my morning routine, lets assess it. I like the rule of three. It probably stems back to my time in the service, but nonetheless, it's always worked well for me. As I stated, the three primary outlets I utilize daily are The Hustle, Morning Brew and Owler. Each has their relevancy from general news to specific client information. From that vantage point I like to approach my day from big to small. General topics (i.e. conversation starters, relevant happenings, global activities and relevant legislative happenings) to specific ones (i.e. retailer X is planning to onboard CBD products or expand RFID capabilities). I find that if I start my day with this process, whether in the office or not, it allows me to hit the ground running by 8:45 to 9 a.m. before any daily meetings are scheduled.
There are other outlets and social media platforms (i.e. LinkedIn and Twitter) that I will use for generic information or whitespace fillers if/when traveling. In addition, I also subscribe to industry specific resources that keep me updated on relevant industry happenings. The two I rely on for Loss Prevention are the D&D Daily and the Loss Prevention Magazine. The one I rely on for supply chain and logistics is The Wall Street Journal Logistics Report, and I utilize SmartBrief's for additional business and leadership insights.
While my list is not all-encompassing, it works for me. What I challenge you to do is find what works for you. Like I said in the beginning, don't spin your wheels for no reason, and make sure you start each day with focus and purpose. In the words of Admiral William H. McRaven, "Make Your Bed!" You'll be surprised what it will do for everything that follows.