Turn on the Blue Light
Years of research and testing have now proven that LED blue light technology will kill a wide variety of bacteria. Replacing the existing white tube lights with blue LED strips that are a specific wavelength can provide numerous benefits to retailers, restaurants, food manufacturers and more. It is a safe and affordable solution to sanitize specific areas and provide key benefits in loss prevention, providing multiple layers of safety.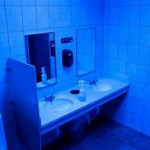 Retailers and loss prevention personnel have already started "turning on" the blue lights in order to curb drug use and overdoses in their retail bathroom locations. In addition, they are using the lights to kill a wide variety of bacteria including MRSA, staph, strep, cdiff, salmonella, listeria and more in food prep areas, shopping cart corrals and general store areas. Continuously running the LED blue lights overnight can increase the overall safety of the retail customer during the day. Plus, retailers can also mix blue lights with white in order to provide the bacteria killing benefits for 24 hours.
LED blue lights are completely safe to use as a replacement for, or in addition to, your traditional white lighting. The hue of blue is within the realm of the visible light zone and will not hurt human or animals eyes unless stared directly at for long periods of time. LED lights are much safer than UV. Protecting customers is both safe and affordable.
Frequently Asked Questions:
Q: Are Blue LED lights safe?
A: Blue LED lights are within the visible light spectrum and are safe for both humans and animals.
Q: Does Blue LED lighting kill all bacteria?
A: There is not enough research to confirm that blue LED lighting kills all bacteria, but it has been proven to be effective with MRSA, Staph, Strep, C. Diff, Salmonella and Listeria to name a few.
Q: Does Blue LED lighting kill COVID19 and other viruses? 
A: No, blue lights are effective against bacteria, not viruses.
Q: What wavelength does Blue LED lighting have to be in order to be effective? 
A: 405-470 nanometers (NM) has been proven to be most effective.
Q: What wattage is available in Blue LED lights?
A: We have 10W Par 30 lamps and 200W Food Grade High Bay lighting.
Q: What is the average life of a Blue LED light?
A: 30,000 – 50,000 hours
Q: Are Blue LED lights energy efficient?
A: Yes, as they require a lower wattage than traditional lighting. Some examples include the ability to replace a 60W incandescent bulb with a 9W LED or a 32W flourescent tube with a 15W LED.
Q: Can we use Blue LED lights in conjunction with other lighting? 
A: Yes. Although white light does diffuse the blue wavelengths and making it less visible, studies show that it is still effective at killing bacteria and disinfecting an area.
Q: Where can I find research supporting the benefits of Blue LED lights?
A: A Google search for "Blue lights for infectious disease" will return numerous articles and studies that support the application.
Q: How does Blue LED lighting combat drug use in restrooms? 
A: Blue LED lighting makes it difficult for drug users to find their veins, limiting the visibility required to make an injection.
Q: How does reducing drug use in public restrooms save my company money?
A: Public health and legal issues associated with dirty syringes and potential overdoses can be positively impacted by reducing drug use in public restrooms. Also, when drug users discard syringes in a public toilet, it can create the need for expensive plumbing repairs.
Q: How does reducing drug use in public restrooms reduce shrink?
A: There is a known correlation between drug use and theft. Eliminating the use of a company's public restroom for drug use could reduce the likelihood that a drug-related theft would occur in the associated retail space.
Q: How can blue lights be effective in shopping cart corrals? 
A: Blue LED lighting can kill bacteria on shopping carts and the handles reducing the risk of customer illnesses and the costs associated with providing sanitizing wipes.
Q: What is the square footage that a Blue LED light can cover?
A: A portable 120W blue LED light will cover a 25′ x 25′ room with no problem. Four of our 7″, 18W round units will disinfect the patient compartment of an ambulance. Two 18W linear strips will disinfect a 10′ x 15′ room. Square footage varies. Please send an inquiry or request a quote for further details.
Q: How difficult is it to install Blue LED lights?
A: Installation is very easy. We can easily retrofit existing tube fixtures, par 30 and par 38 can lights with Blue LED light bulbs. Our lights are available in 120 VAC or 12 VDC.
Q: Do Blue LED lights need to be turned on at all times? 
A: It depends on the application. Please consult us on the appropriate usage times.